XBOX FRIDAY SALE Sudah Hadir Guys…!

Kamu gak bakal mau kelewatan Black Friday kali ini!
XBOX Store kembali menghadirkan Black Friday dengan potongan sampai 67% untuk judul-judul terbaik di console XBOX! Download judul-judul hits mulai dari FORZA Horizon 5, HALO Infinite, Deathloop, Gotham Knighs dan banyak lagi! Ayo isi saldo XBOX / Microsoft-mu menggunakan XBOX Gift Card Instant dan Resmi dari Digicodes.net dan kita simak judul game apa saja yang harus kamu download di minggu ini!
Langsung saja download FIFA 23, Gotham Knights, NBA 2K33, dan Deathloop untuk pemanasan di minggu ini!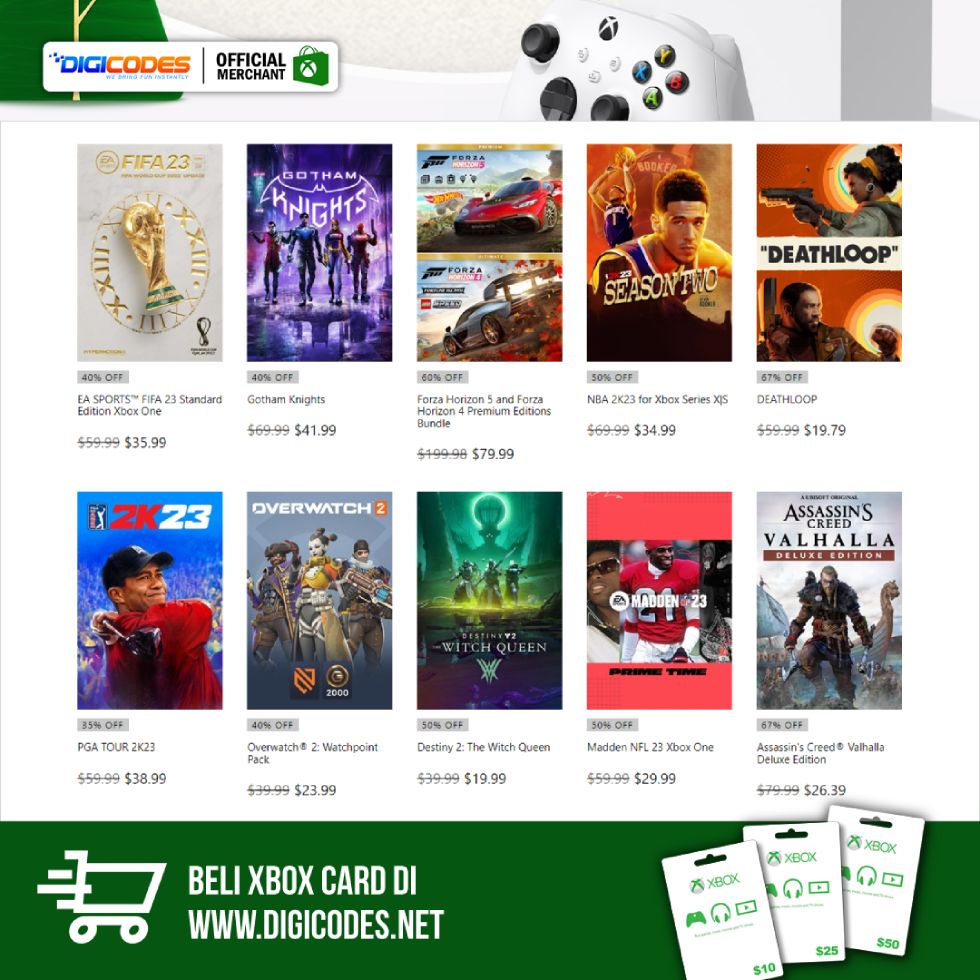 Lanjut dengan Dying Light 2 Stay Human, DioField Chronicles, dan Saints Row terbaru!!!
Sekiro, Resident Evil 2, Cyberpunk 2077, dan The Quarry juga sudah menunggu untuk kamu koleksi!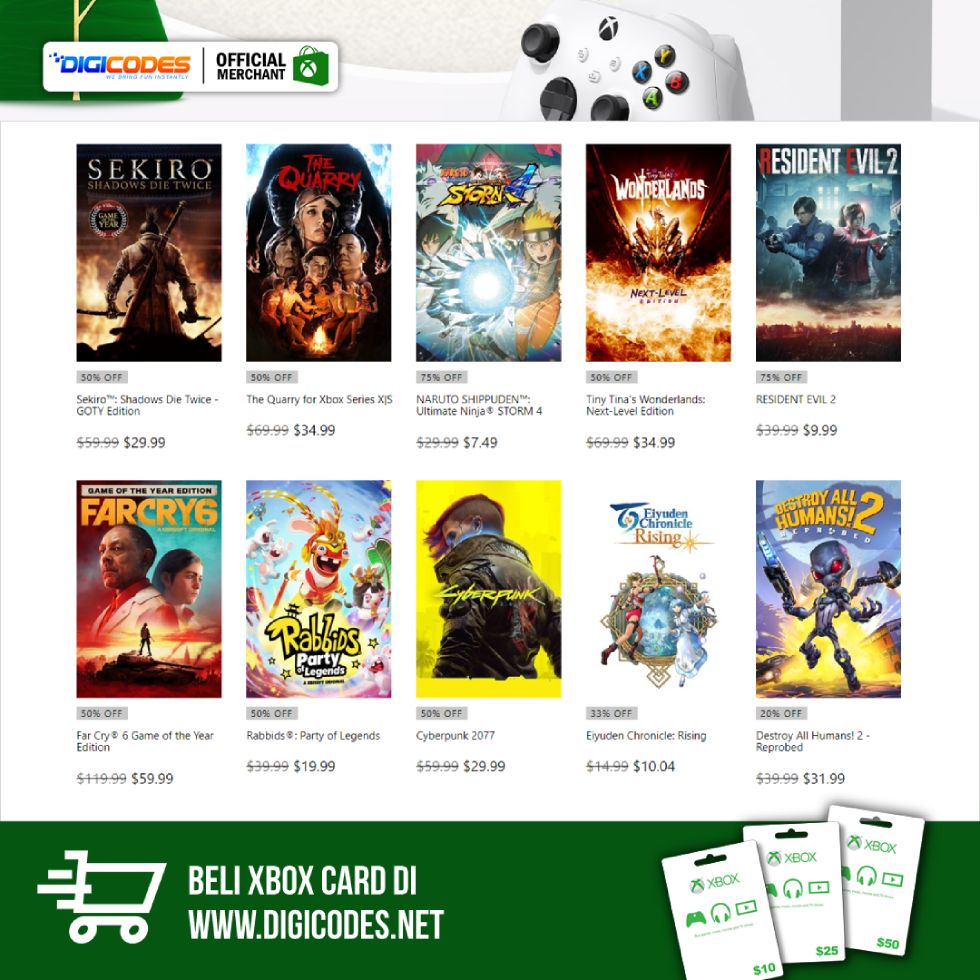 The Elder Scrolls Online Collection, Resident Evil 3, SD Gundam Battle Aliance juga siap didownload untuk akhir minggu yang bpmbastis!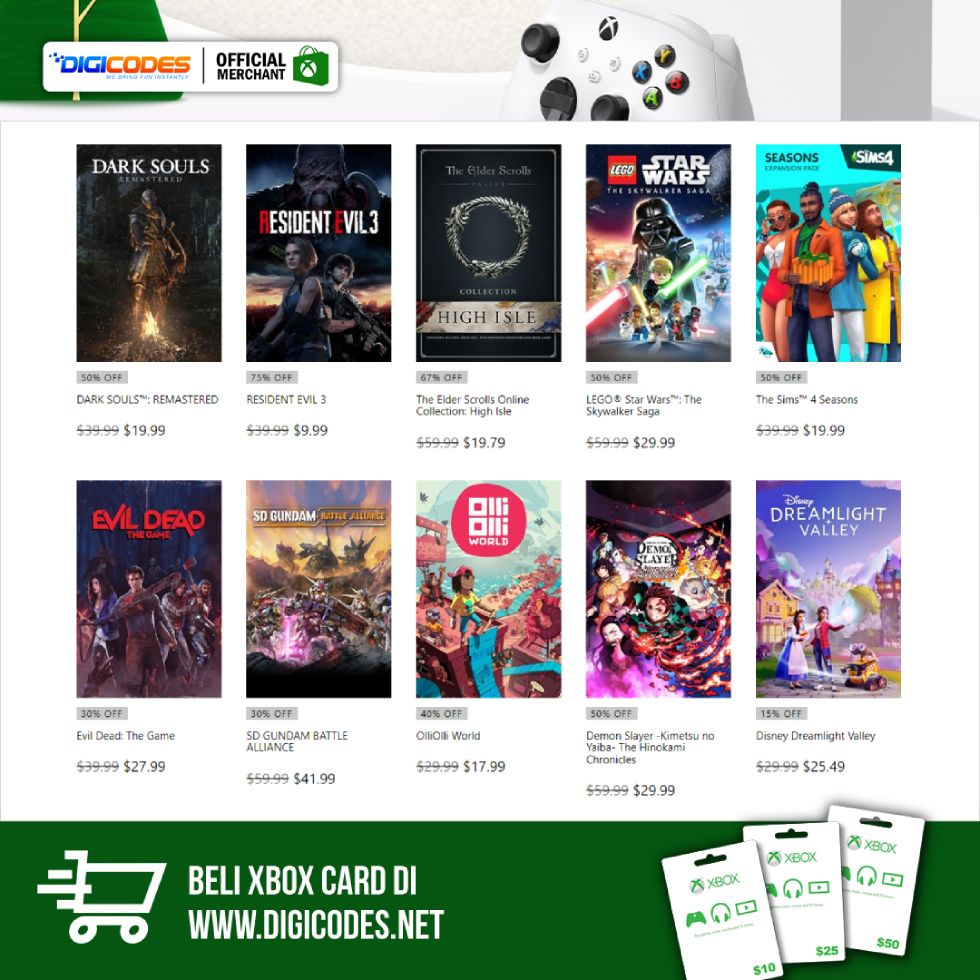 Demikianlah judul game terbaik dari XBOX Sale minggu ini! Ingin menemukan lebih banyak judul sale nya?  Ayo kunjungi halaman XBOX Sale untuk menemukan game-game favoritmu karena masih ada banyak judul yang sayang untuk dilewatkan! Ayo langsung isi saldo XBOX / Microsot menggunakan XBOX Gift Card dan mulailah berburu game XBOX terbaik langsung dari XBOX Store. Klik di sini untuk melihat list game dari XBOX Sale
Mau beli game di XBOX Store? Isi dulu saldo XBOX kamu dengan XBOX Gift Card Instant dan Resmi dari Digicodes.net