Temukan Ubisoft Spooky Sale dan Banyak Discount Seru di eShop Sale
Ayo Serbu eShop Weekend Sale!!!
Minggu ini kamu akan kebagian Spooky Sale dari Ubisoft bersama berbagai sale lain yang tidak boleh dilewatkan! Ayo isi saldo eShop-mu menggunakan Nintendo Network Card / eShop Card instant dan resmi dari Digicodes.net dan simak berbagai judul game eShop wajib download dari Sale minggu ini!
Lengkapi berbagai game Ubisoft mulai dari Mario + Rabbids Kingdom Battle yang populer, Scott Pilgrim vs. The World yang asyik, sampai seri Assassin's Creed yang mendunia!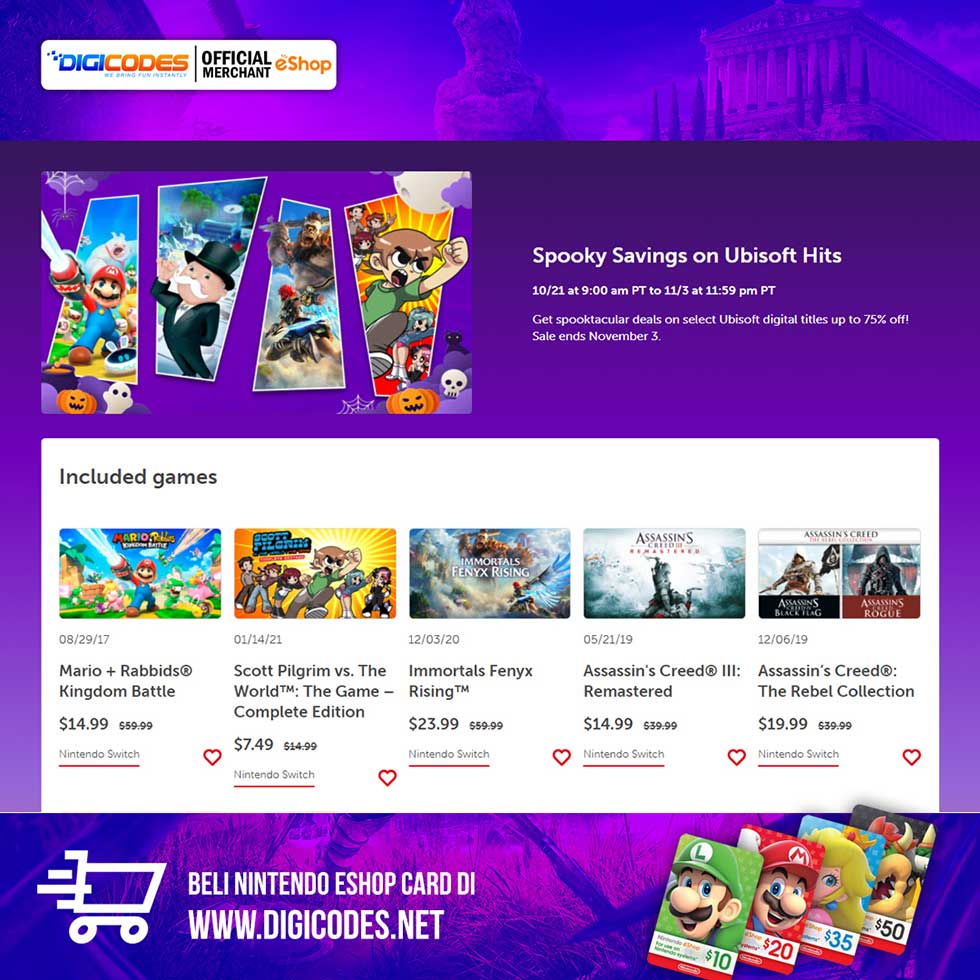 Untuk penggemar Tetris, jangan lewatkan Tetris Effect; Connected Launch Sale. Dapatkan juga discount menarik untuk Skul: The Hero Launch Sale!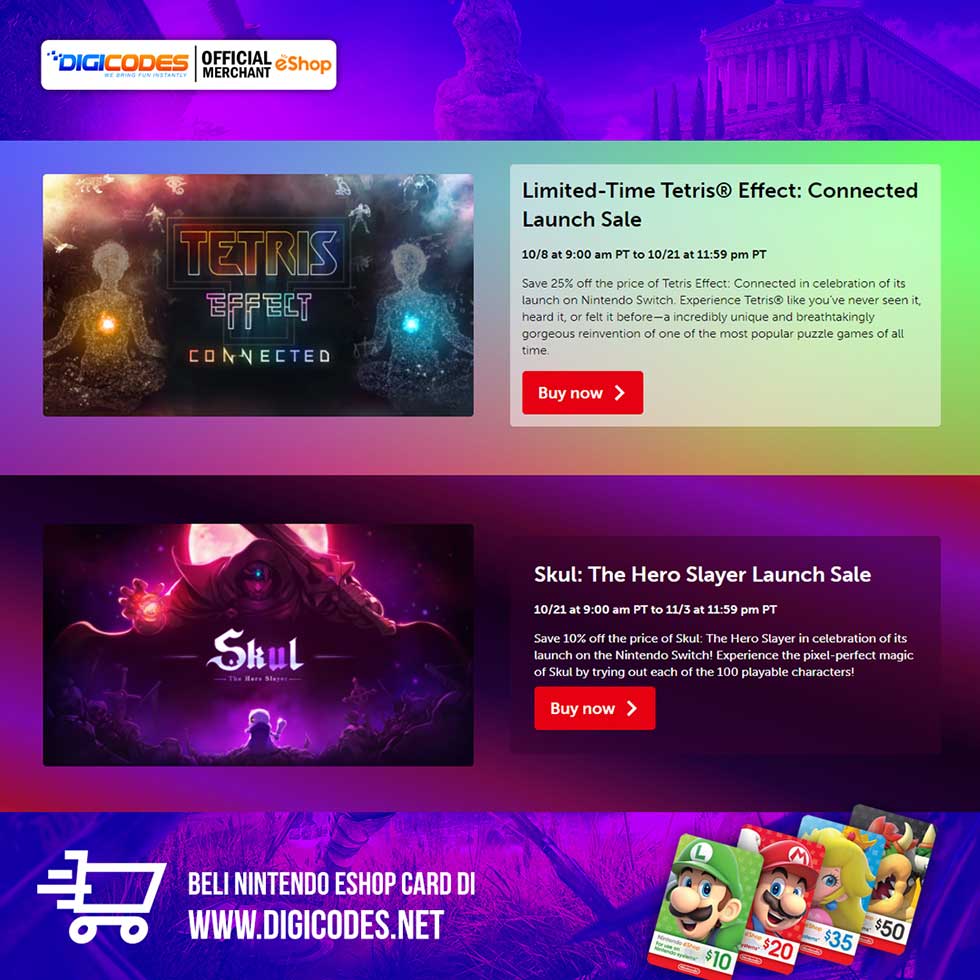 Get over here! Ayo download berbagai game Warner Bros mulai dari Franchise Harry Potter sampai Mortal Kombat! Dan jangan lewatkan berbagai judul Danganronpa dalam sale anniversary yang terbatas!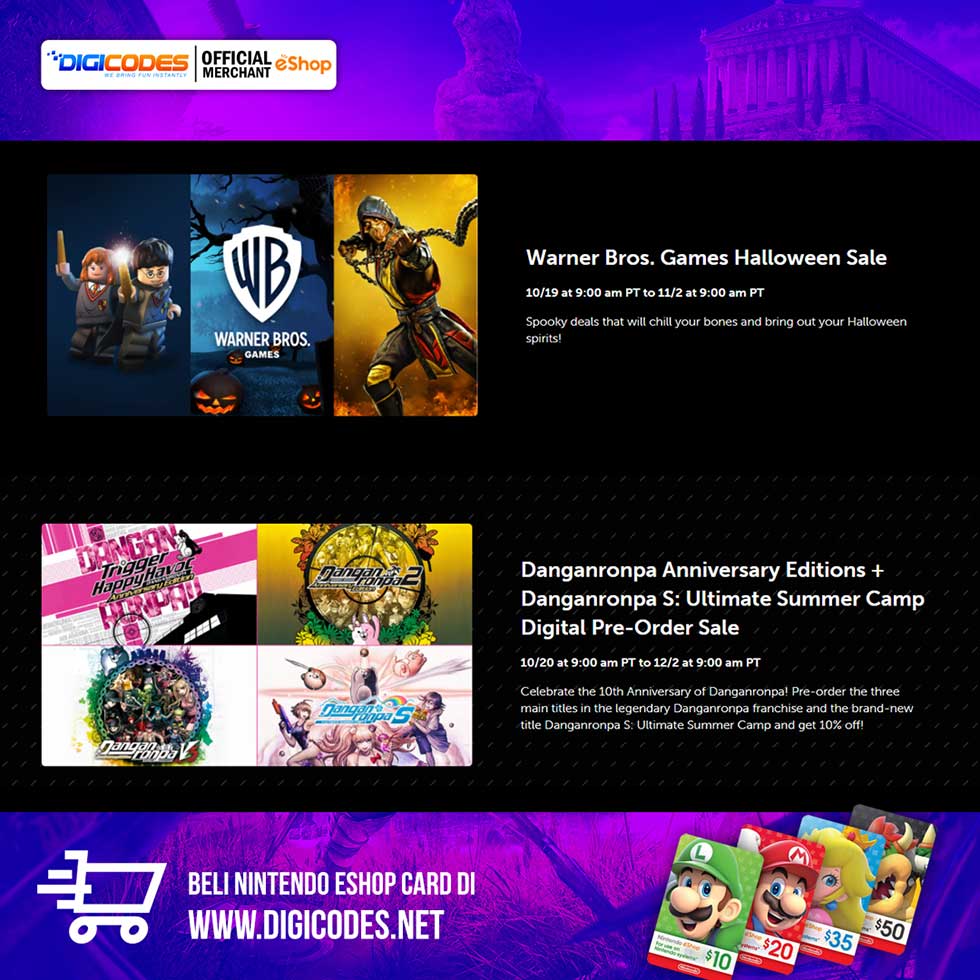 Tidak hanya itu, kamu juga bisa menemukan lebih banyak judul lagi dari eShop! Segera kunjungi langsung eShop Store untuk menemukan lebih banyak lagi judul game sale yang sesuai dengan seleramu. Ayo isi saldo eShop menggunakan Nintendo eShop Card dan langsung mengunjungi list sale eShop Store di sini untuk menemukan game favoritmu!
Mau belanja di eShop Store? Isi dulu saldo eShop kamu dengan Nintendo Network Card / eShop Card dari Digicodes.net!

Nikmati Berbagai Fitur Seru Nintendo Switch Online
Bagi pemilik Nintendo Switch jangan lupa untuk membeli Nintendo Switch Online Codes untuk bergabunglah dalam layanan Nintendo Switch Online langsung dari console Nintendo Switch-mu! Rasakan serunya bermain online multiplayer dengan para pemilik Nintendo Switch di seluruh dunia, dan mainkan kembali berbagai game NES favorit kamu yang kini juga dilengkapi dengan fitur online multiplayer! Ayo bergabung sekarang juga menggunakan Nintendo Switch Online dengan voucher 3 months atau 12 months dari Digicodes.net!
Ayo bergabung dan nikmati layanan Nintendo Switch Online bersama Digicodes.net sekarang juga!