Sambut XBOX Black Friday 2023!

Temukan Sale Terbaik XBOX Di Bulan Ini!
Black Friday juga menggempur XBOX Store! Di minggu ini kamu akan mendapatkan berbagai game terbaik XBOX mulai dari Starfield, FC 24, DIABLO V, dan banyak lagi dengan harga super HEMAT! Ayo isi saldo XBOX / Microsoft-mu menggunakan XBOX Gift Card Instant dan Resmi dari Digicodes.net dan kita simak judul game apa saja yang harus kamu download di minggu ini!
Langsung download Starfield, EA Sports FC 24, NBA2K24, Mortal Kombat 1, Assassin's Creed Mirage, UFFC5, dan DIABLO V!
Lanjutkan dengan Hogwarts Legacy, Lords of the Fallen, Cyberpunk 2077, dan Dead Island 2!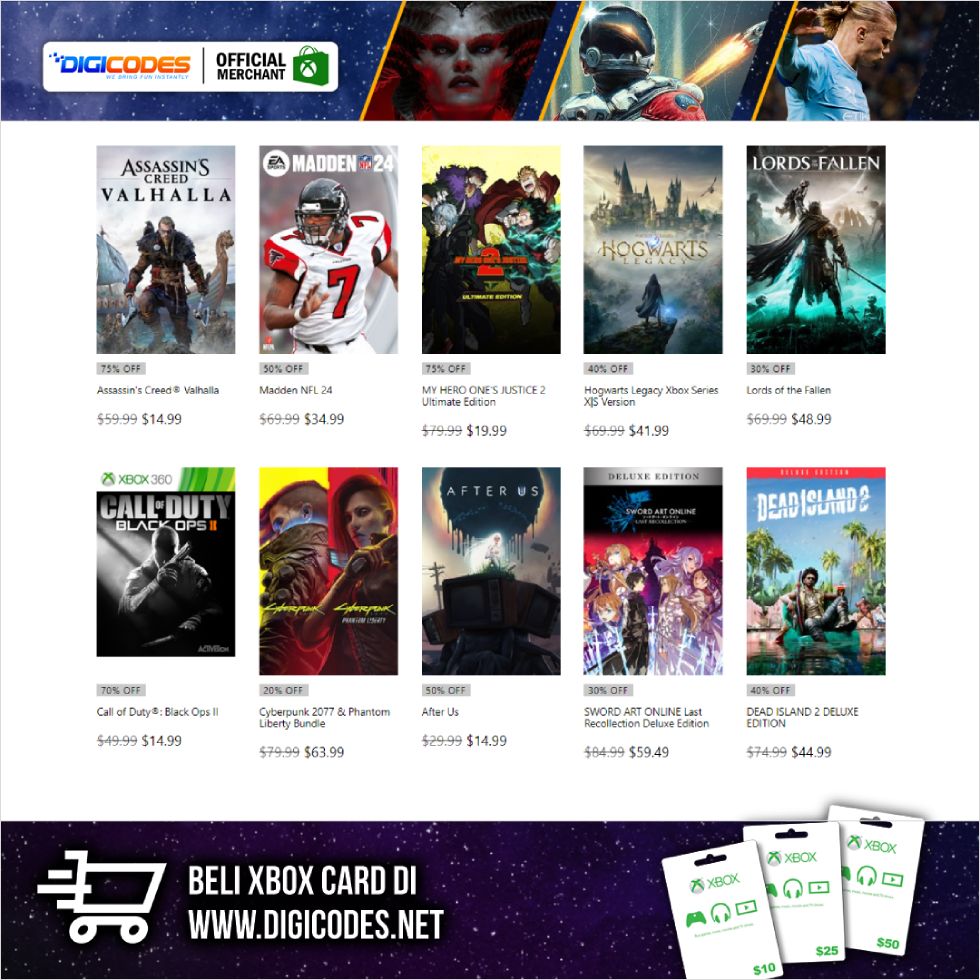 Star Wars JEDI Survivor, Resident Evil 4, F1 23, dan Redfall juga siap menemanimu di Black Friday ini!
Demikianlah judul game terbaik dari XBOX Sale minggu ini! Ingin menemukan lebih banyak judul sale nya?  Ayo kunjungi halaman XBOX Sale untuk menemukan game-game favoritmu karena masih ada banyak judul yang sayang untuk dilewatkan! Ayo langsung isi saldo XBOX / Microsot menggunakan XBOX Gift Card dan mulailah berburu game XBOX terbaik langsung dari XBOX Store. Klik di sini untuk melihat list game dari XBOX Sale
Mau beli game di XBOX Store? Isi dulu saldo XBOX kamu dengan XBOX Gift Card Instant dan Resmi dari Digicodes.net