Sambut October Savings Sale 80% off di PlayStation Store!

Rayakan Bulan Oktober Bersama PlayStation!

Awali Oktober dengan berbagai game terbaik dari PlayStation Store dan temukan penawaran discount sampai 80% untuk judul-judul PS4 dan PS5 pilihan. Ayo isi saldo PSN wallet-mu menggunakan PlayStation Network Card / PSN Card / PlayStation Store Gift Card Instant dan Resmi dari Digicodes.net sekarang juga dan simak game-game wajib download di sale minggu ini!
Game pertama yang wajib kamu download adalah it Takes Two untuk PS4 dan PS5 yang akan membawa kamu ke sebuah petualangan unik yang asyik dimainkan bersama teman, keluarga, bahkan ehem pasangan. Selanjutnya ada God of War yang tidak perlu diragukan lagi dan sudah pasti menjadi judul wajib download kamu di minggu ini! Jangan lupakan juga game Tribes of Midgard yang akan membawa kamu bertualang secara Co-Op dengan gameplay action yang seru!
Untuk penggemar game adventure open world, Assassin's Creed Valhalla untuk PS4 dan PS5 hadir dengan discount setengah harga! Dan para fans Dragon Ball FighterZ kini bisa mendapatkan game seru ini dengan potongan 80% off!
Para fans game balap juga akan dimanjakan dengan kehadiran Need for Speed Heat dengan aksi balapan liar yang menantang! Dan berbicara tentang tantangan, jangan lupa download Bloodborne dengan discount fantastik 60% off!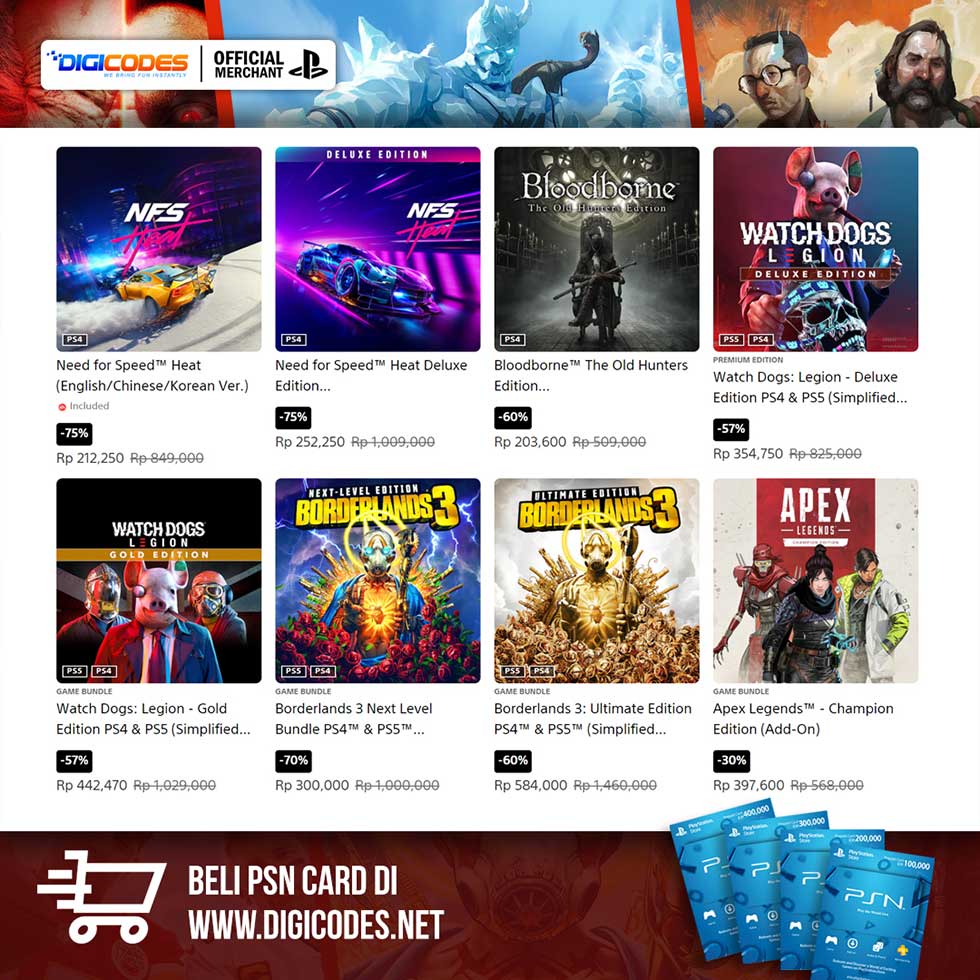 Demikianlah game rekomendasi untuk menemanimu di minggu ini. Buat kamu yang masih aja penasaran dengan list game lain dalam sale kali ini bisa langsung mengisi PSN Wallet menggunakan PSN Card / PlayStation Store Gift Card dan segera jelajahi sendiri isi sale dari PlayStation Store. Siapa tahu kamu akan menemukan judul yang cucok dengan seleramu. Jangan lupa untuk melihat PlayStation Store dari negara lain yang memiliki sale dengan list game eksklusif mereka sendiri, seperti PS Store US, UK, Australia, dan Japan. Dan buat kamu yang ingin membuat account PSN baru dengan Region yang berbeda, jangan lupa baca panduan cara membuat account PSN di sini. Berikut adalah link untuk PlayStation Store dari beberapa Region ternama :
Ingin membeli game dari PlayStation Store? Isi saldo PSN Wallet menggunakan PSN Card / PlayStation Store Gift Card Instant & Resmi dari Digicodes.net sekarang juga!