Golden Week Sale 2022 Menghadirkan Discount up to 80% off

Sale Game Jejepangan Terbaik Sudah Dimulai!

Lengkapi koleksi game Jejepangan dalam Golden Week Sale 80% off yang hadir di PlayStation Store, XBOX Store, eShop Store, dan Steam Store!!! Nikmati berbagai franchise asal Jepang yang mendunia mulai dari Resident Evil, Persona, Tales of Arise, Naruto, Dragon Ball, One Piece, dan masih banyak lagi! Ayo isi saldo PSN, XBOX, eShop, dan Steam wallet-mu menggunakan  Digital Codes dan Voucher Game Instant dan Resmi dari Digicodes.net sekarang juga dan simak game-game wajib download di sale minggu ini!
Kita mulai dari PlayStation Store! Di sini ada Resident Evil Village, Ys IX: Monstrum Nox, Persona 5, Monster Hunter World, Resident Evil 2, Naruto UNS2, dan Scarlet Nexus! Yuk langsung aja di download, dijamin seruuu!!!
Lanjut ke XBOX Store dan donwload Tales of Arise, Resident Evil Village, Final Fantasu XII The Zodiac Age, Fatal Frame: Maiden of Black Water (awas jantung copot!!!), Devil May Cry 5, Code Veon, dan Dragon's Dogma!
Disusul keseruan di Nintendo eShop di mana ada seri Trails of Cold Steel yang dijamin bikin kamu jatuh cinta dengan karakter dan kisah nya yang dalam (dan panjang banget….). Lalu ada game Action JRPG legendaris Ys VIII dan Ys IX untuk aksi Hack n Slash dengan kisah yang epik. Dilanjutkan dengan seri Disgaea yang bikin ketagihan para penggemar game taktik!
Dan untuk penggemar game PC Steam juga akan mendapatkan judul-judul terbaik seperti Daemon X Machina, Sakuna, Trails of Cold Steel, No MOre Heroes 2, Fate Link, Granblue Fantasy Versus!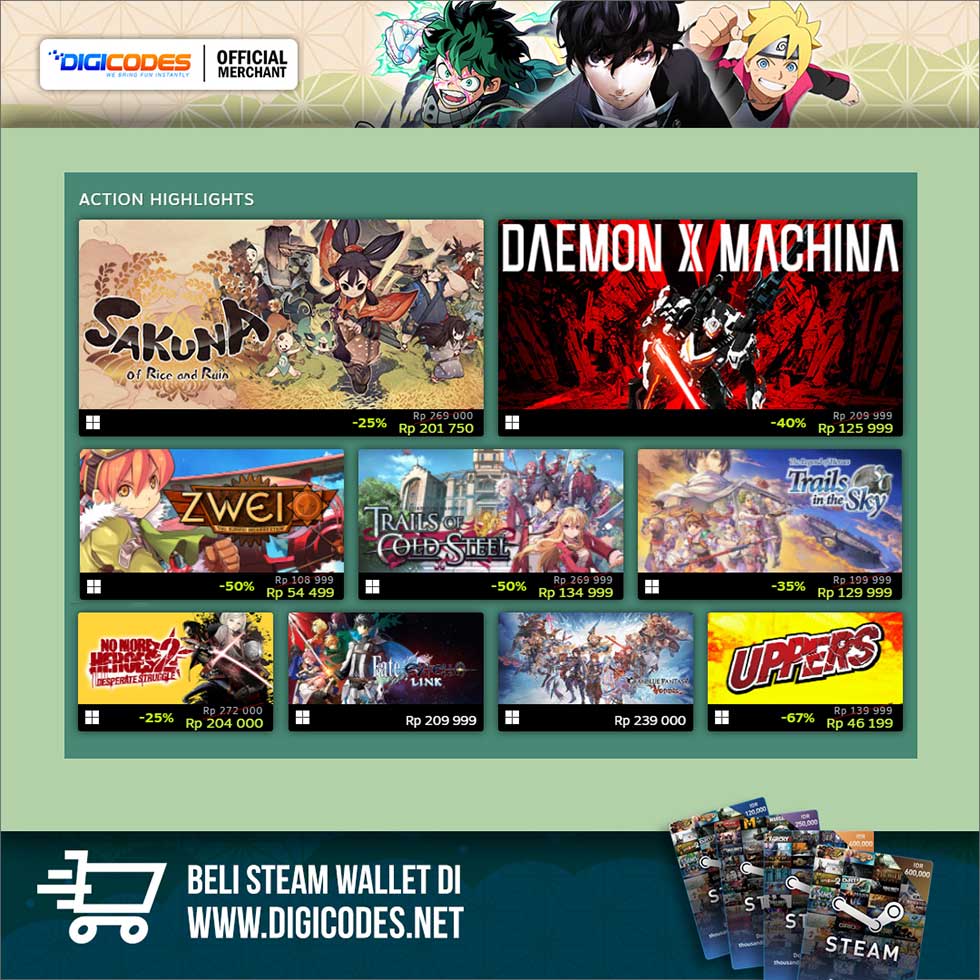 Demikianlah game rekomendasi untuk menemanimu di minggu ini. Buat kamu yang masih aja penasaran dengan list game lain dalam sale kali ini bisa langsung mengisi PSN Wallet menggunakan PSN Card / PlayStation Store Gift Card dan segera jelajahi sendiri isi sale dari PlayStation Store. Siapa tahu kamu akan menemukan judul yang cucok dengan seleramu. Jangan lupa untuk melihat PlayStation Store dari negara lain yang memiliki sale dengan list game eksklusif mereka sendiri, seperti PS Store US, UK, Australia, dan Japan. Dan buat kamu yang ingin membuat account PSN baru dengan Region yang berbeda, jangan lupa baca panduan cara membuat account PSN di sini. Berikut adalah link untuk PlayStation Store dari beberapa Region ternama :
Ingin membeli game dari PlayStation Store? Isi saldo PSN Wallet menggunakan PSN Card / PlayStation Store Gift Card Instant & Resmi dari Digicodes.net sekarang juga!