Black Friday 80% off Hadir di PlayStation Store

Discount Black Friday Sudah Dimulai!

Bersiaplah menyambut Black Friday bersama PlayStation Store! Di minggu ini kamu bisa mendapatkan berbagai game terbaru dan terpanas dengan discount yang hangat sampai 80%! Ayo  isi saldo PSN wallet-mu menggunakan PlayStation Network Card / PSN Card Instant dan Resmi dari Digicodes.net dan kita simak game blockbuster apa saja yang wajib kamu download di minggu ini!
Buka keseruan Black Friday dengan mendownload game bola paling teknis di dunia yaitu PES 2021 yang hadir dengan discount dahsyat 30% off! Dan lanjutkan dengan game JRPG legendaris sepanjang masa yang hadir dengan grafis dan kisah epik untuk next gen dalam Final Fantasy VII Remake 34% off! Dan bagi penggemar seri Watch Dogs, jangan lewatkan jduul terbaru Watch Dogs Legion dengan discount 20%! Ghost of Tsushima juga hadir dengan potongan 33% dan sudah dukuk manis untuk segera kamu download!
Jika kamu masih memiliki space HDD yang besar, jangan lupa untuk mendownload game Marvel's Avengers dengan discount 25% berikut The Last of Us 2 yang hadir dengan potongan 50%. Dan untuk penggemar game susah bisa langsung mencoba Cuphead yang hadir dengan potongan 25%. Dan game susah tidak lengkap dengan kehadiran Dark Souls 3 yang muncul dengan discount 75%!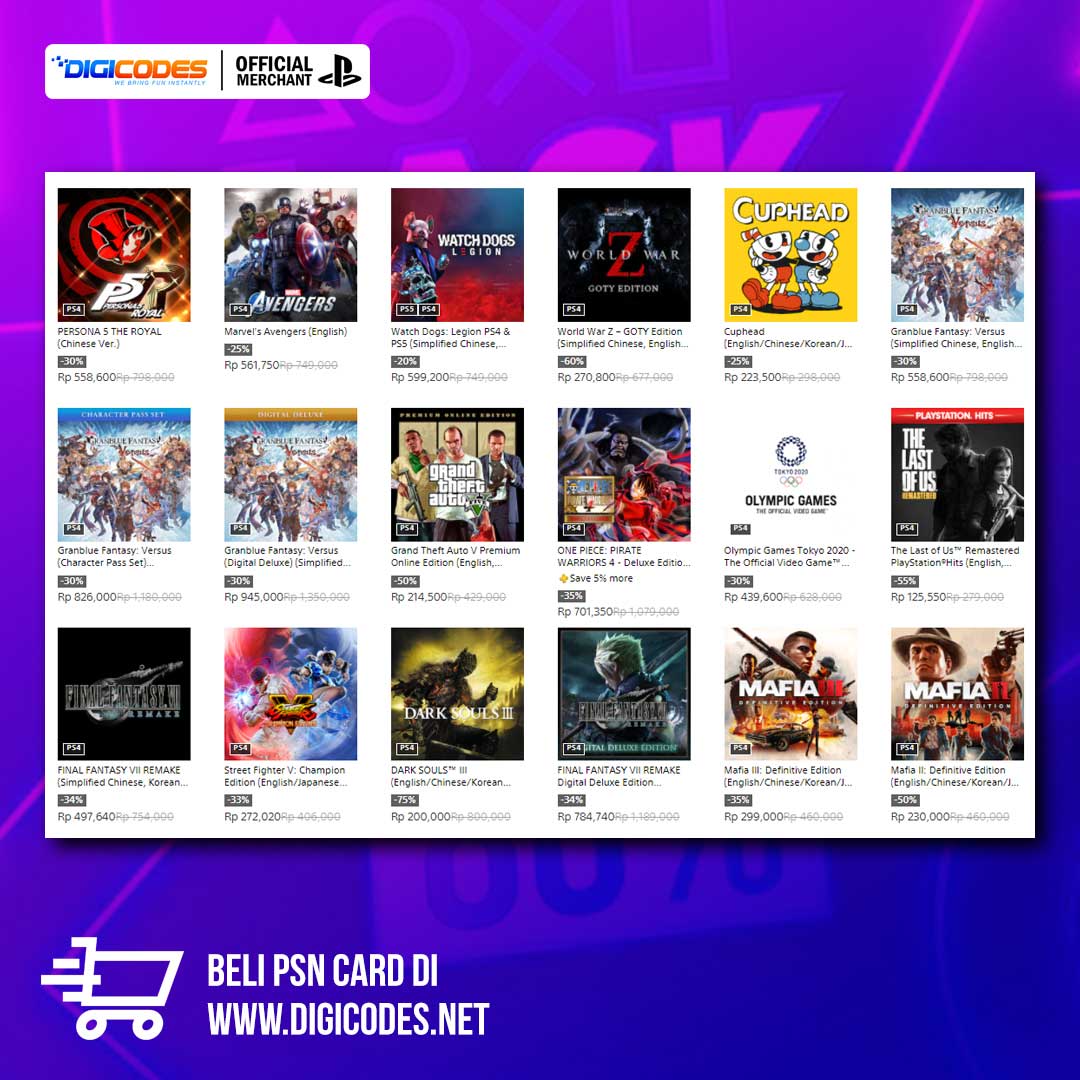 Demikianlah game rekomendasi kamu di minggu ini. Buat kamu yang masih aja penasaran dengan list game lain dalam sale kali ini bisa langsung mengisi PSN Wallet menggunakan PSN Card dan segera jelajahi sendiri isi sale dari PlayStation Store. Siapa tahu kamu akan menemukan judul yang cucok dengan seleramu. Jangan lupa untuk melihat PlayStation Store dari negara lain yang memiliki sale dengan list game eksklusif mereka sendiri, seperti PS Store US, UK, Australia, dan Japan. Dan buat kamu yang ingin membuat account PSN baru dengan Region yang berbeda, jangan lupa baca panduan cara membuat account PSN di sini. Berikut adalah link untuk PlayStation Store dari beberapa Region ternama :
Ingin membeli game dari PlayStation Store? Isi saldo PSN Wallet menggunakan PSN Card Instant & Resmi dari Digicodes.net sekarang juga!

Ayo Beli dan Redeem PlayStation Plus 12 Bulan Indonesia dari Digicodes.net sekarang juga dan dapatkan bonus 3 bulan!