Lebih Banyak Game Hadir di PlayStation Summer Sale!!!

Sale Super Meriah dari PlayStation Masih Berlanjut!

Wow, PlayStation Summer Sale menghadirkan lebih banyak game untuk kamu koleksi! Dengan discount sampai 80% off, kamu bisa menemukan game terbaik seperti Horizon Forbidden West, Call of Duty Vanguard, Gran Turismo 7, DIDA 22,  dan masih banyak lagi! Ayo isi saldo PSN wallet-mu menggunakan PlayStation Network Card / PSN Card / PlayStation Store Gift Card dan daftar menjadi member PS Plus menggunakan PlayStation Plus Card Instant dan Resmi dari Digicodes.net sekarang juga untuk menikmati berbagai game wajib download di sale minggu ini!
Hayo, siapa yang kemarin cari-cari Gran Tourismo 7, nih udah muncul! Jangan lupa mendownload Horizon Forbidden West dan Ghost of Tsushima sebagai dua game wajib sepanjang masa!
Jangan lupa mendwonload Call of Duty Modern Warfare, Assassin's Creed Valhalla, Marvel's Spider-Man Miles Morales, seri Resident Evil, dan Cyberpunk 2077!
Returnal juga hadir untuk para pemilik PS5! Dan jangan lewatkan koleksi seri Dark Souls dan Demon's Soul yang menyiksa!Dilanjutkan dengan Sekito, The Witcher III, dan God of War!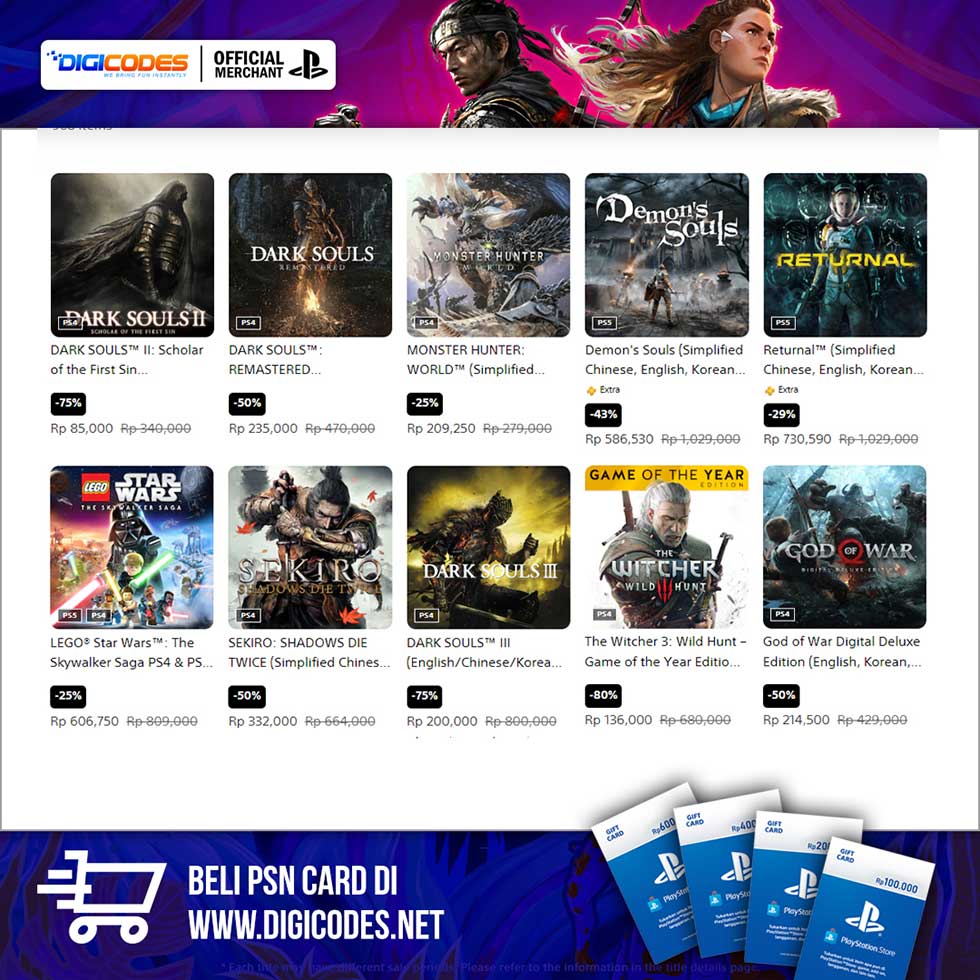 Marvel's Avengers juga hadir bersama Naruto Shippuden UNS4, Mobile Suit Gundam Extreme VS Maxiboost On, Tiny Tina's Wonderlands, dan The SIMS4!
Demikianlah game rekomendasi untuk menemanimu di minggu ini. Buat kamu yang masih aja penasaran dengan list game lain dalam sale kali ini bisa langsung mengisi PSN Wallet menggunakan PSN Card / PlayStation Store Gift Card dan segera jelajahi sendiri isi sale dari PlayStation Store. Siapa tahu kamu akan menemukan judul yang cucok dengan seleramu. Jangan lupa untuk melihat PlayStation Store dari negara lain yang memiliki sale dengan list game eksklusif mereka sendiri, seperti PS Store US, UK, Australia, dan Japan. Dan buat kamu yang ingin membuat account PSN baru dengan Region yang berbeda, jangan lupa baca panduan cara membuat account PSN di sini. Berikut adalah link untuk PlayStation Store dari beberapa Region ternama :
Ingin membeli game dari PlayStation Store? Isi saldo PSN Wallet menggunakan PSN Card / PlayStation Store Gift Card Instant & Resmi dari Digicodes.net sekarang juga!
Ayo gabung menjadi member PlayStation Plus bersama Digicodes.net dan nikmati discount tambahan untuk sale yang lebih seru!