Jadilah Jagoan Favorit dalam WB Game Sale 75% off dari XBOX Store
Be The Batman…or Ryden…or Iron Man
WB Games kembali menghadirkan publisher sale up to 75% sampai tanggal 28 Juli 2020 PDT. Di sini kamu akan diberi kesempatan untuk melengkapi judul action terbaik dengan lisensi super hero yang beragam, mulai dari Batman, Iron Man, sampai para petarung ganas di Mortal Kombat. Ayo isi saldo XBOX Live-mu menggunakan XBOX Live Card Instant dan Resmi dari Digicodes.net dan kita simak bersama judul game WB apa saja yang layak mengisi harddisk XBOX-mu!
Judul terbaik dalam WB Game Sale dari XBOX Store
Game pertama yang tidak boleh dilewatkan adalah LEGO Marvel Super Heroes. Dengan harga $5.99 – lebih murah dari isi bensin pertalite full tank di mobil Xenia –  kamu sudah bisa memilih para super hero marvel dalam bentuk kotak-kotak LEGO yang lucu dan menggemaskan. Lalu kalau kamu suka dengan tema perang dan bermimpi untuk punya rumah di Middle Earth, jangan lupa untuk mendownload game Middle-earth Shadow of War Defiinitive Edition. Cukup dengan $14.99 kamu sudah bisa berkelana di dunia LOTR sambil membasmi Orc dengan aksi yang super keren. Dan buat para masokis di luar sana jangan lupa untuk mendownload game Mortal Kombat 11 Aftermath Kollection seharga $41.99. Di edisi ini kamu sudah bisa mendapatkan seluruh DLC yang tersedia untuk menemanimu mencabut organ tubuh digital lawanmu.
Semua game itu keren, tapi menurut Digicodes, salah satu game super hero yang super wajib untuk dimiliki adalah Batman Arkham Knight yang merupakan game adaptasi super hero terbaik dalam sejarah game super hero. Dengan harga hanya $9.99, kamu sudah bisa menjadi Batman dan mengendarai Bat Mobile. Dan kalau kamu masih melewatkan judul yang satu ini, kami hanya bisa bilang "terlalu….!!!"
Demikin judul terbaik dari WB Sale versi Digicodes.net. Kalau kamu punya selera yang berbeda, silahkan langsung menuju mengisi saldo XBOX / Microsot menggunakan XBOX Live Card dan mulailah berburu game WB Games terbaik langsung dari XBOX Store. Klik di sini untuk melihat list game dari WB Games Sale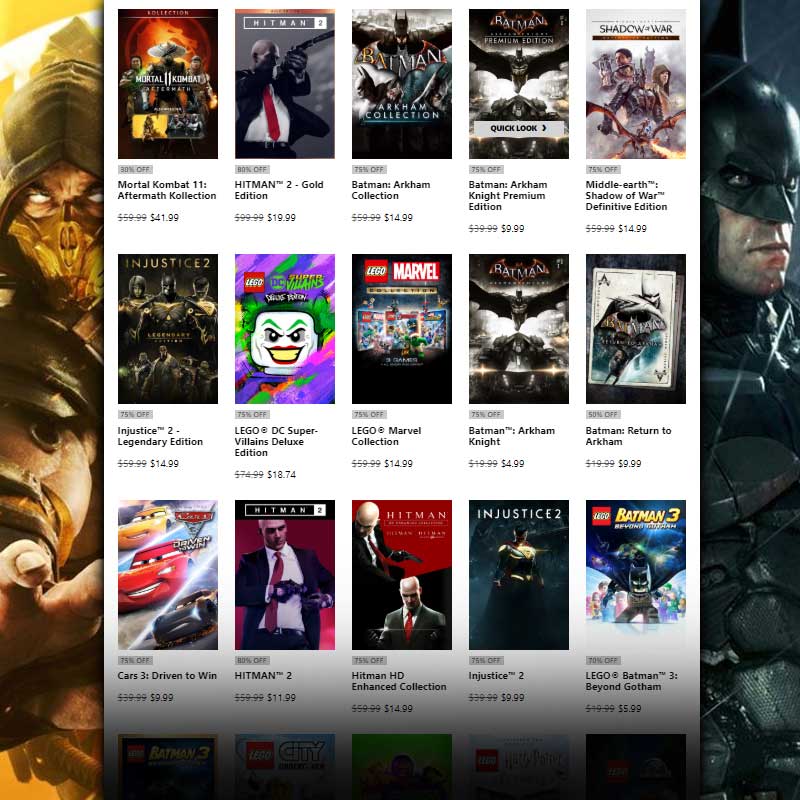 Mau beli game di XBOX Store? Isi dulu saldo XBOX kamu dengan XBOX Live Card Instant dan Resmi dari Digicodes.net